Have you ever wondered what a day of a professional athlete looks like? First and foremost it requires practicing your chosen sport every single day. But life is also more than that. I sat down with Tobias Poke, M Room brand ambassador, to talk about his typical day.
7:00AM— It´s a new morning, rise and shine! Tobias wakes up in his home city Copenhagen (unless he is traveling for his sport). First he meditates for 20-30 minutes. This has been his routine for about a year and sinking into this beautiful calm place has given him many benefits: He is happier, sleeps better, and is more focused. "Before i started meditating I had a bad year. I was insecure, stressed about traveling and focused on the things I did wrong. I needed to find balance and meditation has been the best investment I have ever made in myself".
7:30 AM: — Time for breakfast. Do all professional athletes follow a strict diet? No. Tobias eats everything but naturally keeps it healthy and first and foremost eats enough. For breakfast he has oatmeal, avocado, maybe some fresh croissant. Delicious and healthy. Well, healthy at least if you ignore the croissant, but It´s a relief to hear that professional athletes can also enjoy good food, just like the rest of us.
9:00 AM— After calm a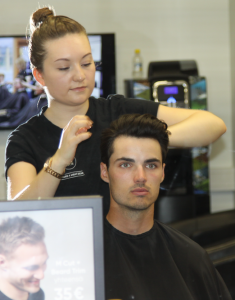 nd relaxing morning it´s time to think about style. Golf is a sport where attire is important and part of the game. "Style is important to me", Says Tobias. "if you look good, you have more confidence and it helps also in your game" To ensure that he always looks his best Tobias heads to M Room salon usually once a month. This time we met in Finland, Vantaa salon, but usually he goes to shops in Copenhagen.
"I love M Room because it exudes a feeling of old, high-quality barbershops that we see in classic movies. It is a place where you are always served in a great manner and you have lots of options for services", he says. "I´m proud to be an M Room ambassador because I value the concept and it differentiates from other barber shops".
10:00 AM:— Then it´s off to the golf course.  Often Tobias is accompanied by his big brother (also a golf pro) and father (a golf teacher). This truly is a family sport for them: also their mother plays golf. Sometimes he is joined by friends. "One of the best things about golf is that it gives you many friends", Tobias says. Usually he divides his day into sections and in the morning does a few hours of putting. If this would be a competition weekend, he would use the morning to scout the new field and see how the terrain is; how soft is the soil, how fast does the ball roll. Anything to help him prepare for the race, and good preparation always adds to confidence too. In the winter Tobias may take off to training camp to Spain or play in indoor halls.
13:00 PM— Time for lunch. Tobias usually eats only three times a day but tries to carry nuts, or protein bars with him to ensure that he doesnt get hungry during practise. "You can´t leave the field in the middle of the day to go eating", he says. Yeah, we get it; when you are passionate about something, you need to to pursue it, not waste time snacking. He is not like us average people who get a sugar craving and run to get a chocolate bar in the middle of the day (feeling slightly pathetic at the moment). When wanting to be the best, you need to focus.
14:00 PM— Back at the golf course. For the afternoon there will be a shot game and a longer game. "To be the best you need to practise every day", Tobias says. There are no shortcuts; no success is achieved without hard work. Tobias also likes tennis but rarely has time for it, and that is one of the sacrifices a professional athlete has to make. He says he played football but during 8th grade had to make a choise between the two sports. How on earth do you choose between two loves? It was not only due to his family legacy but also because he likes challenges, and golf is one of the hardest sports. It gives him a chance to develop every day. He has many rolemodels to look up to. First and foremost his father and brother, but also people like Eddie Pepperell and Thomas Peters. Why? because they are not focused on being on media but instead have gone slowly from amteurs to pros and then to the top- just like Tobias wants to do.
18:00 PM— Golfing is done for the day and it´s time to chill and have dinner. For starter it´s pasta, then for the main some thai food or perhaps indian. Like he said, there needs to be enough food! Dessert is always good but not mandatory, he is more into savory than sweet.
19:00 PM– Spending time with girlfriend, watching a movie.  "I meet my friends while playing golf so evenings are not so much about going out", Tobias says. He is happy about the day – again he is one step closer to his dream of being among top players  in Europe, and has enjoyed the day fully; living in the moment and appreciating the fact that you can work while doing what you love. He plans next weeks trip to a tournament in Europe and is excited about meeting new people and getting new experiences, while all the time growing and developing as a golfer.
22:30–23:00 PM— It´s time for a good 8 hours of sleep, after a perfectly balanced day of golfing and enojying time with  friends and family.
This guy made an impression on me with his confidence, positivity and good manners. We met in Finland while he was going to a tournament and he said "I am so impressed that people are so friendly here". I believe it is because positivity resonates forward. It´s always such an inspiration to meet people who get to work with their passion – something many people dream about. I have no doubt that he will conquer his goal; be among the top golf players of Europe some day.
Niina Majaniemi 08/19
---
If you want to know more about Tobias, check out his Instagram @tobiaspoke, and remember to follow us on M Room Group -LinkedIn; article on style coming up!