At M Room we have a slogan "more than a barber" and one of our values is "we are barbers by choice". Being proud of your profession is a gift. Everyone wants to wake up in the morning looking forward to work. We want to be motivated and happy. Sadly, so many get out of bed on Monday depressed about the fact that they have to go to work.
For M Room more than a barber means that our barbers can develop themselves every day. There are so many aspects of barbering: It is professional talent, customer service, product knowledge, etc. Learning path is unlimited. We launch new products and services regularly and our barbers learn about them every day so they can guide our customers.
For M Room employees are the assets of our organization. No company should forget that their employees work really hard every day to accomplish the organization's objectives. The management is responsible for bringing employee development into the company culture and making sure it happens.
Employees give their heart and soul to the organization but it needs to be a two-way street. Why adapt and bend if the other side doesn't respond? Money is no longer the most motivating factor when choosing a job, like it was some decades ago.  Today's employees want a meaningful job and positive work experiences and those reasons will make them stay. Naturally, they need to be well compensated for their efforts too. M Room is a frontrunner also in that segment, working to build the most beneficial salary model for our employees.
We want to be the coaches for our barbers; help them succeed while they work with us. If they want to barber and focus on that, loving it whole heartedly – we enable that. If our barbers want to take additional tasks such as act as a trend-influencer or product development, we provide a possibility for that. If someone is interested in working in another country, we help with the arrangements.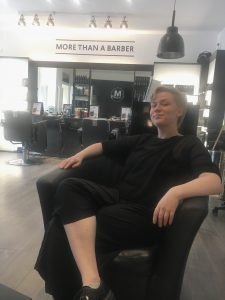 Nea Kujala is a one of the barbers who have utilized our opportunities and got a chance to move abroad with support of M Room. Nea moved to Berlin from Finland and has now two exciting months in a new culture behind her. What are her experiences about this?
"Berlin is a multicultural city and it shows in my everyday job. I don't speak German yet but I manage with English, though I want to learn German", Nea says, showing her innate need for self-development, something our barbers excel in. And we cherish it.
"Working abroad is great. I've gotten encouragement from the management and colleagues. Naturally you need to find out some stuff yourself too, and for example the bureaucratic things may be difficult at some point but I have received a lot of help. I am very grateful that I work for a company that enables me to see different cities and countries. This opportunity for working abroad is truly appreciated. I have made the right decisions by coming here. I love the city and have learned to succeed even in challenging situations".
This is something we pursue for are employees. That they are independent and trusted.  They are given responsibility and they have accountability. Those are the success factors for keeping our employees happy. What else does Nea love about working abroad?
"I have learned so much about myself after getting to know new people from different countries. I have pushed through my comfort zone and started a new life." We at M Room are proud that we can give opportunities for our barbers to work abroad globally, whether it´s Germany, USA or some other country. We are also proud of Nea for grabbing the bull by the horns. Because as Nea says, everyone is accountable for their own motivation; employer can provide the tools but no one can decide whether you grab the chance or not, it is up to you. It is a two way street and the best results are born when both sides do their best for positive outcome.
We are grateful that Nea has enjoyed working for m Room already for 8 years. Why? "The best thing is wonderful customers and colleagues. Smart, well thought concept gives us great tools for managing customer service and it has been amazing to see the company grow and develop during my time here". That is what M Room continues to do – develop the concept, management, and employees, so we can bring happiness to our customer and employees.
Nea gets motivation from the satisfied customers who return and give feedback for her work, and the great team spirit among staff. She gets energy from the new home city; she tries to visit as many new places as she can during her free time. The thing that she loves most is the people around her and good vibe at the shop – but naturally also the people she loves who are in Finland, supporting her all the way from there.
Support, respect and opportunities – that´s what every employer should give their employees and that is something we try to make happen at M Room every day. It is a collaborative effort and requires everyone's work – and the end result are happy employees who are proud to be barbers and grateful to come to work every day.
Niina Majaniemi 07/19