"If you are going to do something, do it with style". -Jason Statham.
Trends surface from runways, history, state of the world, movies, etc. Some defy trends in favor of a more timeless approach and others want to ride on the trend wave to get some excitement. "Going to the barber shop is a big part of men's world and masculine history", Petri Sipiläinen says. During this long history trends have changed. Barbers at M Room follow trends while always maintaining the same principles of affordable, high quality grooming done by professionals who give consultation to the customer. Let´s look at the trends that drive innovation in hair and cosmetics industry in 2019.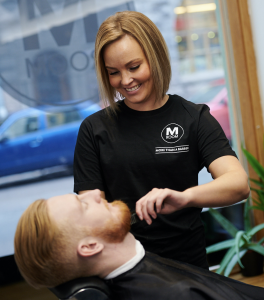 1. Beard is still hot.
"The focus looks set to be on more tightly cropped and shorter length. So much of what we're seeing on the catwalk is with this shorter defined look. Think George Michael in the 'I´m Your Man' video! Should be a big year for quality razors and balms."—Ben Rose, from Primandprep. Beard requires products, time, and effort and M Room is full on board with this trend, helping its customers to get and maintain a perfect beard. M Room selection has M Special shave, M Beard –beard trim, Basic, Classic and Trend, and a product line to help men take of their beards in between barber shop visits.
2. Texture and buzz cuts.
The Textured crop. The undercut quiff. The tapered high and tight. The messy man bob. The buzz cut. According to Fashionbeans those are the top trends for men´s hair in 2019.
M Room helps its customers to find their confidence, no matter what hair cutting trend you are following. M cut uses M Rooms own unique haircutting technique focusing on texture, responding perfectly to todays trends, as does the M buzz cut.
3. Spotlight is on men
In 1998 Petri Sipiläinen and Toni Kylätasku took part in the barber world championship in Soul. They noticed that men could no longer get proper service in the industry where salons were designed to respond to women's needs and M Room was born to fix this problem. This man centric approach is now as trendy as ever. The growth in male grooming market is huge, expecting to reach $ 78.6 billion by 2023, according to IMARC Group's research.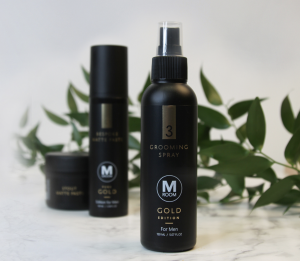 4. Buzzwords for products are organic and anti-aging.
According to analysis by Global Market Insights, organic demand in Hair Care market is expected to rise. Consumers switch chemical-based products to organic. M Room product development has created a line with ingredients like menthol, juniper berry, aloe vera and blueberry extract. For hair there is The Pure Gold Edition. The MGROOM SKIN includes MGroom Eye Rescue – eye balm , with anti-aging effect. MGroom Facial Toner Spray is formulated to protect skin from environmental stress and pollution. M Room products are mostly made of nature-based ingredients, when there is a possibility to replace the synthetic component. We use Finnish water, the cleanest in the world, and in these water-based products 90% of the ingredients are organic.
5. Personalized customer service and products
At M Room Every haircut is planned individually based on customers wishes and hair type. Due to our membership system we can ensure personalized service. The options for membership are platinum, gold and silver, with pricing for juniors, seniors, students, and fathers with sons. Our additional services ensure tailored choises. These include the M Style, a professional styling, an excellent way to get confidence, start up a bachelor party or the weekend. There are the M Premium Extra, The Razor, Relax, Face, Ear, Skinfade, and our newest service M Wax, a method for instant uplift by removing nose and ear hair.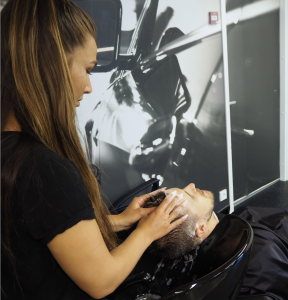 6. Customer experience
Now is the time to be customer obsessed. According to Forbes, customer experience will rise to the top of the marketing agenda. Customer experience is at the heart of M Room. One part of CX is offering digitized options in service. Gartner states that by 2020, customers armed with more technologies will demand more from companies CX. M Room is the pioneer of this in its industry. Going digital involves placing the customer at the center of the business. M Room was the first to introduce a subscription-based, walk-in only model to the Finnish barbershop scene, and continues to develop it according to customers needs.
"The fashion world is so interesting because it´s always changing, but if you know yourself really well, despite all of the changes in the fashion trends, you know how to stay true to yourself". -Yuna. This is what M Room barbers are for; to help you find that style that makes you the best version of yourself.
by Niina Majaniemi
M Room as Franchise
Sources:
Hyken, Shep. (2018). Retrieved from: https://www.forbes.com/sites/shephyken/2018/12/16/ten-customer-servicecustomer-experience-predictions-for-2019/#503ff1836178 Pettey, Christy. (2015). Retrieved from: https://www.gartner.com/smarterwithgartner/the-customer-experience-in-2020/ Franchising.com. (2019). Retrieved from: https://www.franchising.com/articles/5_trends_driving_new_beauty_franchise_concepts.html?ref=newsletter Sampson, Luke. (2019). https://www.fashionbeans.com/article/mens-hair-trends/ Global Market Insights. (2018). Retrieved from: http://heraldkeeper.com/market/global-organic-hair-care-market-analysis-growth-trends-forecast-2018-2024-150943.html Research and Market. (2018). Retrieved from: https://www.researchandmarkets.com/research/6f9v23/male_grooming?w=4